Ecoplan® is a Spirit-Wear program designed by Stadium Sportswear Ltd. to provide a selection of products in an environmentally friendly and economically feasible method, while supporting the local economy.
By selecting these products you are making a positive impact on the environment as well as supporting jobs in Alberta.
Russell Athletic® and Fruit of the Loom® products are stocked in Edmonton at the designated Russell Athletic warehouse. With Inventory right here in town we reduce the negative impact of long range transportation, such as pollution.
In addition there are no freight charges, and of course those freight savings are passed on to you the consumer.
As an added benefit, we save time which means you get your product faster.
Ecoplan® is a 5 business day delivery service (after art approval.)
How to place an order:
Make your product selection (minimum 12 units per style)
For more detailed product info Click Here
Provide your size requirements using size chart.
Provide your school name and school mascot name ie. "Spartans"
email us at specialorders@stadiumsportswear.ca with your complete order details and qualify for the special offer below.
Printing $6.75, No Set Up Fees, No Art Fees, No Shipping Fees!

when using ecoplan STOCK ART TEMPLATES and orders are received by EMAIL.



In the contents of your email please list your product selection (1 product style per order), garment color, size requirements, print colors and design selection.
Upon receiving your order we will send you an art approval.
Once approved we will get your order delivered within 5 business days, leaving a green footprint along the way.
Products and prices link below:

$10.00 delivery fee applies to all orders (delivered to your school)
GST additional
Lower Price…Faster Delivery…Best quality …and good for the environment!
Stadium's Ecoplan®… all around goodness.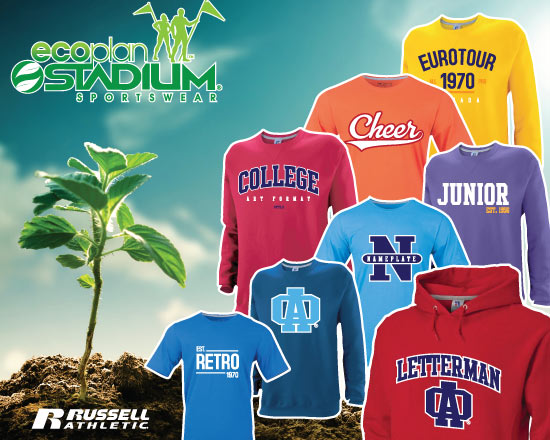 Soon you will be able to enter a paperless order online, we will notify you upon the completion of our e-commerce upgrade.

For now please make the selections from the product, art template and color selections below. Please email us your size requirements, and we will get you an art approval promptly. Once your art is approved, we will have your order ready in 5 business days.